~ 6,804 Total Acres

(5,924 Deeded: 640 State; 240 BLM)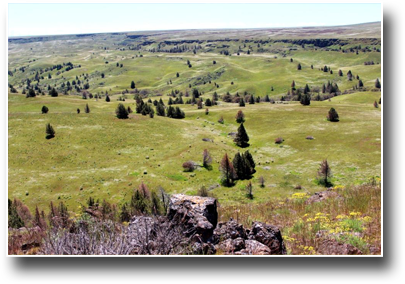 Livestock grazing, hunting, or just plain enjoyment and seclusion—a great horseback and ATV outfit.
Big Horn Canyon Ranch - Roosevelt, Washington
Big Horn Canyon Ranch is located about five miles north of the Columbia River near Roosevelt, Washington. The terrain ranges from extremely steep rugged canyon walls to leveled plateaued farm ground, with a unique aesthetic basin and several geologic variations in between. Dozens of windmills ring the property on three sides. Once inside the ring of towers the property takes on a power of its own blocking out much of the awareness of the surrounding area. There are utility easements (power & gas) through the property but no right of ingress or egress to the public.
Price & Terms: $2,800,000 - Cash at Closing
One solid block of deeded, state lease and BLM. Restrictive access, livestock grazing, hunting and/or just plain enjoyment and seclusion. A great horseback and/or ATV type outfit…and please be aware of the fishery and water sports in the Columbia just down the canyon.

Approx 6,804 Total Acres
(5,924 Deeded – 640 State – 240 BLM)
History of 1,500 annual AUMs - Seasonal or Yearlong
Estimated 50/50 chance of winter out
Opportunity to increase carrying capacity by seeding 800+/- tillable acres to pasture grasses
800+/- acres native range will also increase AUMs via stock water development
$20,700 annual CRP – 7 years remaining
Approximately 383 acres CRP - $20,700 annual payment - 7 payments remaining
Approximately 800 acres formally dry farm wheat/barley (needs renovation – currently grazed for pasture) – balance dry grazing
Average precipitation…11"-12"
Elevation…800' – 2,200'
FSA estimates: approximately 20 bushel wheat…approximately 5 acre/AUM, seasonal grazing
A new pasture mix seeding on dry farm is estimated at 1 ½ acre/AUM
A 2015 fire burned an estimated 75% of the ranch. great comeback. Approximately $200,000 was spent on new fence in 2017 for both boundary and interior replacement. Interior fencing was designed to incorporate the 800 acres of dry farm for livestock grazing.
There is potential for increasing carrying capacity through stock water development, new seeding and timely pasture rotation. The property is a diamond in the rough with a lot of upside. The current owner has utilized the property as a late winter to spring and/or summer pasture.
There is power and year round private road access to an old homestead. $75,000 was recently spent on improving this access.  The setting is very attractive and probably where one would choose to settle. Cell service is available at this location.  An older barn and granary are basically the only salvageable improvements worth keeping.  Portable corrals are currently used for shipping.
Cascade Black Tail deer & turkey would be the major game animals.
Varmint hunting should also shine
Salmon, catfish, small mouth bass, wall eye and sun fish provide great angling in the Columbia below.
The $20,700 CRP payment will also be assigned to a new Buyer as well as the state and BLM leases.
Taxes: Approximately $3,000+/-
Purchase Price: $2,800,000; cash @ closing
NOTE: Agent owns an interest in this property
Download Big Horn Canyon Ranch Property Brochure