7,005+/- Deeded Acres – About 3,000 Acres Private BLM
Totals approximately 10,000 acres - fenced and cross fenced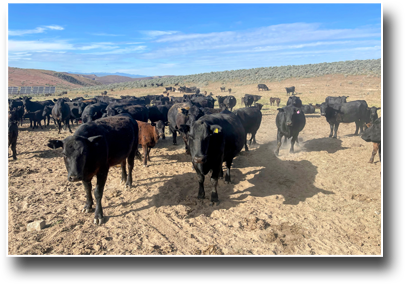 APPROXIMATLEY 8 MILES NORTH OF ONTARIO, OREGON — Malheur County
McBride Land and Livestock Co. - Ontario, Oregon
The McBride Ranch historically utilizes approximately 5,500 to 6,000 AUM's on an annual basis. The immediate area, judiciously managed, is noted for its winter-out capability on most years.  Some winters may require supplemental feed…some winters may require only a mineral supplement.  The key is the amount of snow cover and frozen crusting limiting cattle access and also spring moisture providing adequate regrowth for the next winters grazing. It ain't a slam-dunk winter-out but probably as good as it gets in north east Oregon. And/or can make an approximate 500 animal unit yearlong operation…your choice.
Price & Terms: $7,000,000 Cash at Closing — 2022 TAXES - $4,148
RANCH HAS BEEN IN THE MCBRIDE FAMILY 4 GENERATIONS.

Headquarters are easily assessable off I 84, Exit 362, (Moores Hollow).  Quality county graveled road to HQ's of about one mile.  Private drive behind locked gate to Small 2 BR home – Metal shop and storage (consisting of 3 RR box cars joined together)- scales, metal working and shipping facilities, feedlot w/concrete apron and additional aids.  An additional set of metal working facilities is located on the southwest portion of the rangeland.
Stock water is provided via 8 wells (5 on power line, 3 on solar)  4 miles of buried pipeline, storage tanks and troughs.  Seasonal stream and a couple of ponds.  Overall fencing and cross fencing rates as very good.  Sod cover is well above average found on most ranches.
Mineral rights have been reserved by prior ownership.  Seller wishes to retain one half interest in any renewable energy development.
The ranch is bisected by Interstate 84 providing convenient access. As indicated above; the ranch has several options of usability…compliment of a larger operation to a smaller yearlong independent unit.  Buyer choice.
Download McBride Land and Livestock Co. Brochure